Tuesday, October 20, 2020 / by Team Glasser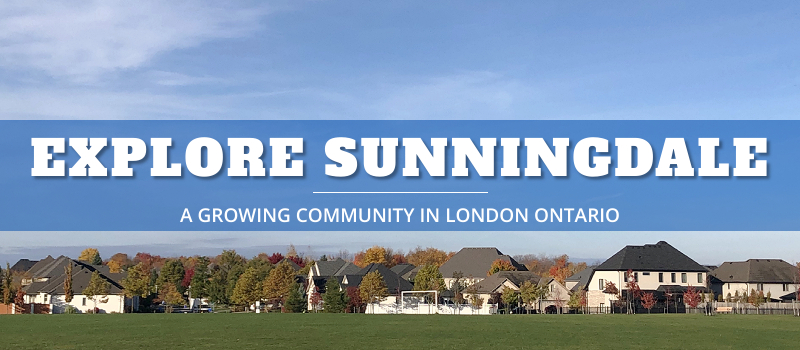 Sunningdale is a recently developed neighbourhood in northwest London, Ontario. This upscale suburb is still expanding, surrounded by beautiful natural spaces and offering some of the most gorgeous single-detached and estate homes in the city. Being situated close enough for easy access to all amenities, schools, and entertainment makes Sunningdale a top choice for people and families looking to experience an impeccably clean, quiet, and safe neighbourhood.



As of 2011, the population of Sunningdale in London, Ontario is 4,015 people, of which 49% is 2 person families. Single-detached homes make up 67% of all dwellings, and 80% of dwellings are owned. The average value of dwellings is $476,329. Below we've created an overview of the most relevant statistics. For a comprehensive census, you can visit The City of London's Sunningdale neighbourhood profile.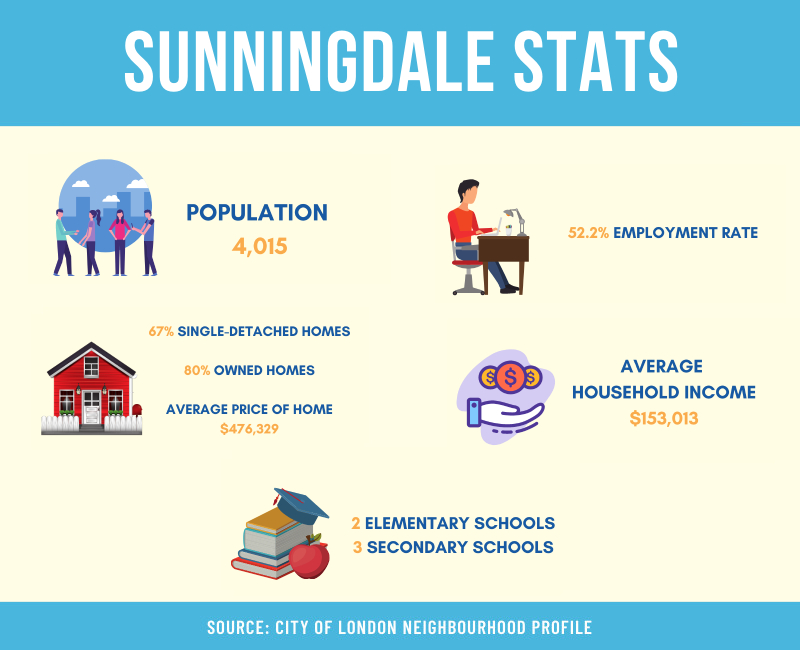 Being so close to a shopping hub with easy access to many other parts of the city, the dining options are abundant for people living in Sunningdale. There are many chain restaurants, as well as some popular local eateries to choose from. We chose just two of our favourite restaurants: Four Seasons Restaurant and Forrat's Chocolate Lounge.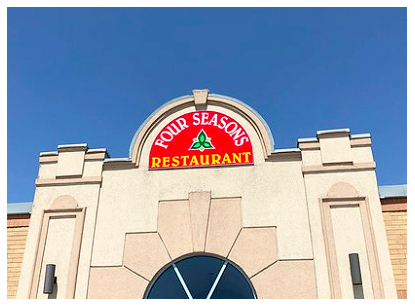 Four Seasons Restaurant & Reception Hall has been serving London its great Canadian and Greek cuisine since 1994. With their incredibly friendly staff, competitive pricing and extensive menus, this restaurant offers a great experience for everyone. Their reception hall can accommodate up to 200 guests and is a perfect venue for any events or parties. This is the kind of place where you'll find many regulars exchanging greetings, and the owners are often seen checking in to make sure you are satisfied with everything. It's this feeling of being welcome as if you are family that truly makes a difference for many diners.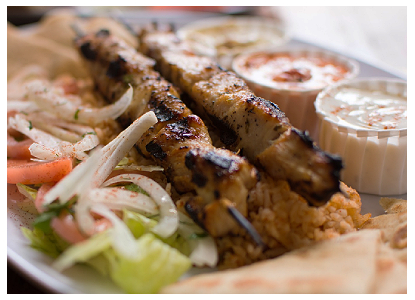 Their menus include breakfast, lunch, and dinner as well as Sunday brunch buffet. They also have a great wine list, including Greek wines you won't find anywhere else. The atmosphere at Four Seasons is very warm and inviting, making it a great place for large gatherings for friends, family, or even business meetings. The food is all fresh and delicious, with many tempting Greek specialities that you'll want to try. With such a large menu, it may be hard to choose but it means more options for picky eaters as well. We recommend the classic chicken souvlaki, it is so satisfying and perfectly seasoned. Don't skip the baklava! Take a look at Four Season's menu.


Forrat's Chocolates was established in 2003 with a small shop at the Coven Garden Market. It has since grown into a popular chocolate lounge that brings joy to every chocolate lover in the city. This establishment is all about quality dining and service. Their European style chocolate is a huge hit with anyone who has a sweet tooth, and the owner shows a clear passion for everything he creates and offers. The lounge is very comfortable and cozy, a perfect spot for a date or anniversary celebration. With many different desserts and beverages to try, going into Forrat's combines the childlike happiness that chocolate brings with the sophistication of its beautifully crafted desserts.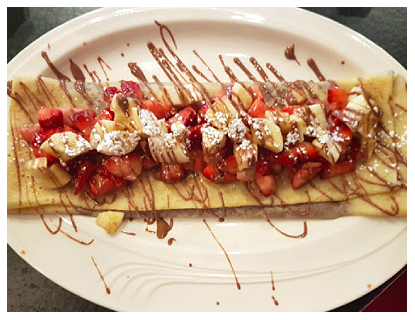 The mouth-watering menu is mostly sweets, but they also offer a few savoury crepe options. Most people visit Forrat's for the desserts and are not disappointed to see many options on the menu ranging from crepes, waffles, chocolate fondue, ice cream, and fresh-made chocolates. Any true chocolate lover will need to experience the luxurious experience at Forrat's where so much care is taken to make the best product. We suggest giving the classic Forrat's crepe or waffle a try, it comes with your choice of chocolate and fruit so you can create whatever your heart desires. You can see their menu here.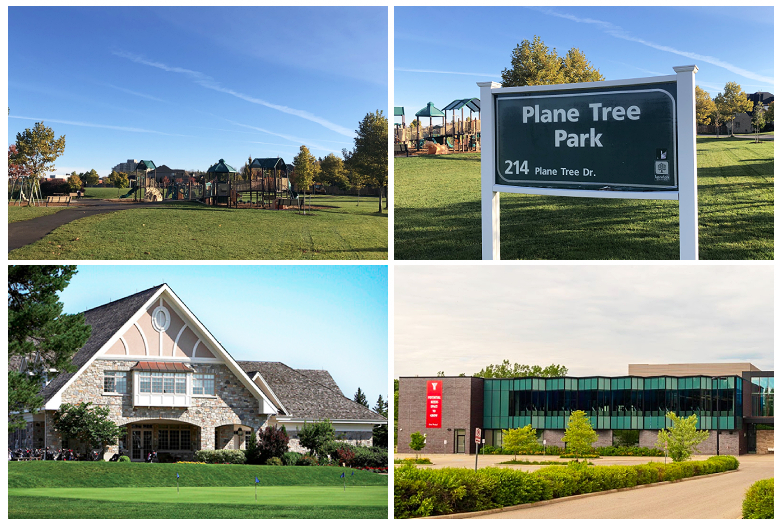 Being surrounded by so much open and green space, Sunningdale has a lot to offer in terms of places to explore. The Sunningdale Golf and Country Club has been around since 1934, and its 400 acres expand through the Medway valley offering some of the most gorgeous courses in London. It's also a popular venue for weddings and large events. Sunningdale Golf and Country Club has a very solid reputation for being well-maintained and having some incredibly friendly staff on site. They have great dining with an incredible menu at the Clubhouse, making it an excellent experience whether you are opting for a membership or just visiting once. Situated among the beautiful homes in the neighbourhood, Plane Tree Park is the largest park in Sunningdale. Some of the best play structures for both older and younger kids are located here, and there are many walking paths, wide green spaces, as well as a few sports fields. It's a great place and often frequented by people from outside the neighbourhood. You will see many people walking their dogs along these paths as well. Walking up towards a slight hill, you will be treated to a really gorgeous view of Sunningdale and get to take in the neighbourhood in all its glory. The Stoney Creek Community Centre YMCA & Library is close by on Sunningdale Road and is a very clean and well-maintained facility with really helpful and genial staff. There are many different programs available for adults, kids, and families, and they have an indoor pool, indoor track, and steam room as some of their many amenities. As Sunningdale is also located close to Masonville, access to shopping and entertainment is very convenient including many different grocery stores both larger chain stores and local markets.

The Medway Valley Heritage Forest is one of the most breathtaking natural spaces in London. This Environmentally Significant Area is very diverse and includes floodplain forests, swamps, marshes and forested valley slopes. There is a large variety of plants and animal life as well, perfect for anyone looking to explore and record their findings. Medway Creek offers some lovely views, especially in autumn when all the colours make an irresistible landscape. You can really feel that you've left the city behind and stepped into another world as you make your way through this serene space. Having such easy access to it from Sunningdale means that people have that opportunity to just step away from the bustle of daily life for a little and relax while taking in some truly inspiring sights.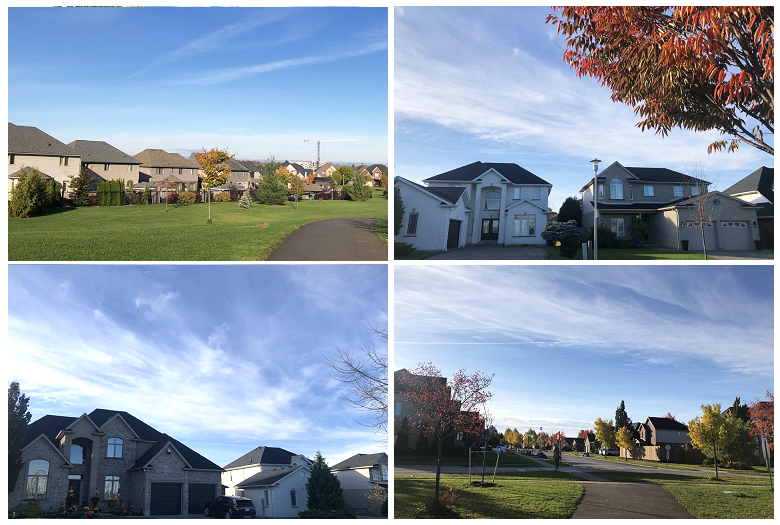 Sunningdale really feels like its own little world. The streets are beautifully maintained and lined with mature trees. The homes are some of the best in the city, and the residents of this neighbourhood clearly have a lot of pride in living there. It doesn't feel like a typical suburb with endless rows of homes that all look the same. Rather, being situated among such open and green spaces gives Sunningdale a really special atmosphere and it feels really open rather than closed up. The residents are genuinely friendly and will often greet you as they too walk their dog or work on some lawn maintenance, and the houses manage to have character despite being so newly built. For many families, Sunningdale is an ideal place as there are different school options and the comfort and safety of living here can't be compared with anywhere else. It also has a certain kind of prestige, as it does have the highest average home prices in the city. It's a perfect neighbourhood to choose if you are looking to build your own custom dream home since many of the communities in the neighbourhood are still developing. The neighbourhood is continuously expanding, with more homes being built as well as additional landscaping. With its growth and reputation, Sunningdale is an exquisite choice for those looking to live an upscale lifestyle that has more to offer than the average neighbourhood.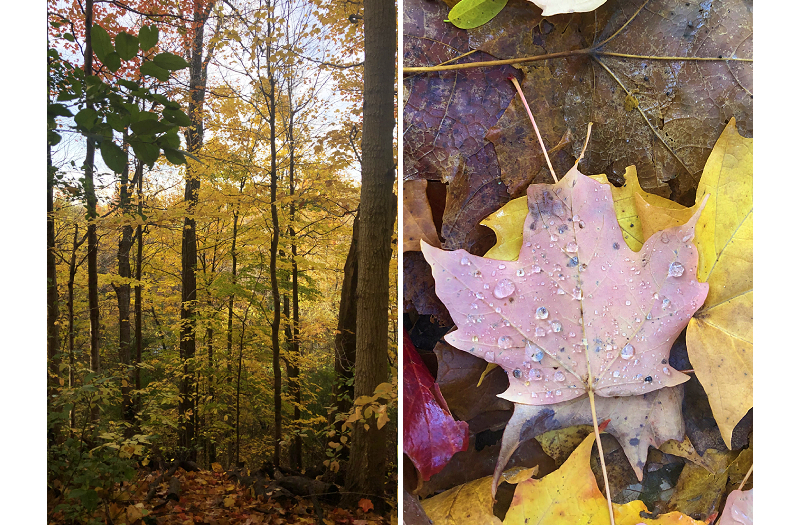 Sunningdale has a lot to offer, especially for those looking to purchase a quality home in an upscale neighbourhood. The thought and care put into the layout of this still-growing community make for a unique place to live and raise a family. It's a true privilege to live in Sunningdale, and most people who end up here will likely stay for a very long time in this wonderful neighbourhood. For current listings in Sunningdale of London, Ontario take a look at our Sunningdale Homesearcher and contact one of our excellent agents today.