Sunday, September 13, 2020 / by Team Glasser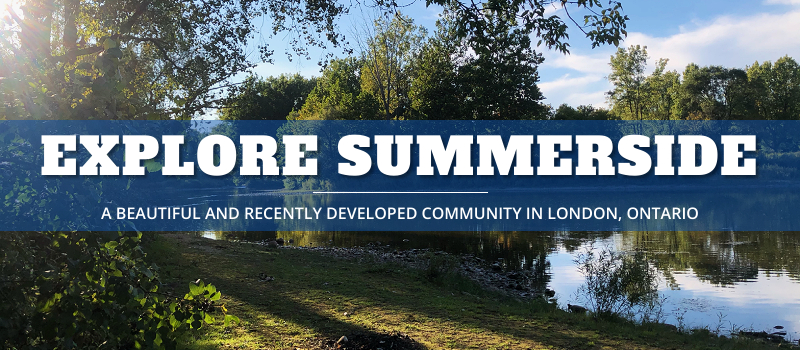 Summerside is a quickly developing community in London, Ontario. It is within the larger Jackson neighbourhood, tucked away in the Southeast corner of the city. Summerside is a perfect neighbourhood for anyone looking for some privacy and living away from the noise of the city while still having easy access to amenities and Highway 401. Since this is a more recent community, it means the homes are all newly built and beautiful. It's a great neighbourhood for families especially since there are many affordable homes and easy access to some great schools. Check out our exploration of this exciting new neighbourhood!


Since Summerside is a smaller community in the Jackson neighbourhood, the statistics available are for the Jackson area but they still provide an idea of the community statistics. As of 2016, the population of Jackson in London, Ontario is 4,935 people, of which 37% is 2 person families. Single-detached homes make up 85% of all dwellings, and 95% of dwellings are owned. The average value of dwellings is $295,786. Below we've created an overview of the most relevant statistics. For a comprehensive census, you can visit The City of London's Jackson neighbourhood profile.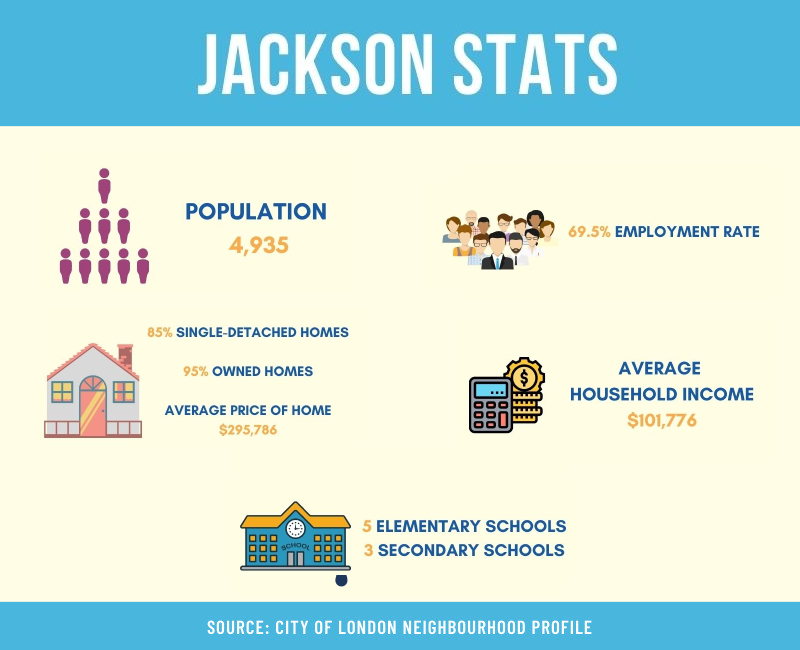 Although Summerside is in its own little corner, its location provides for quick access to the city and it is close to some fantastic dining options that range from the regular fast-food joints to more casual dining restaurants. We chose two of our favourite spots in the area: Asian Wok and Fireside Grill & Bar.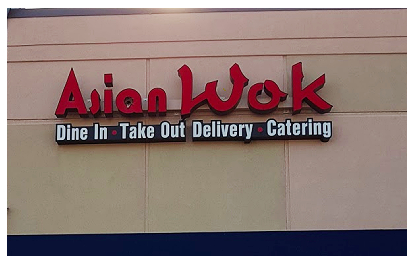 Asian Wok is a popular dining destination for many Londoners. This family-owned and operated establishment specializes in Chinese food but has a lot more offerings on their menu. Their open-concept kitchen and welcoming atmosphere make for a great dining experience as you can see the food being made. It's a great choice for families or larger gatherings since they have so many food options. They guarantee customer satisfaction by allowing you to customize any dish by asking to exclude or include specific ingredients, which is accommodating for picky eaters and anyone with allergies.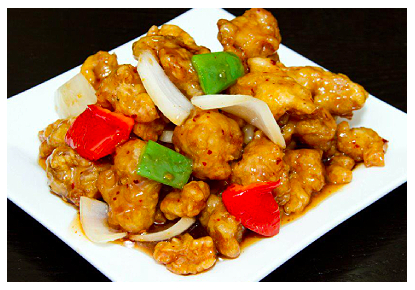 The menu is extensive, with many traditional Chinese dishes as well as some Japanese and Thai options, they have in-house specials and dishes that you won't find at just any restaurant. Asian Wok also offers weekday lunch specials as well as catering. It's no wonder that many people have adopted this spot as their regular for Asian cuisine. The quick service and friendly staff is just another positive part of the whole experience. It's exciting to have so many different types of options so whatever you choose to try whether it's your regular favourite or something new, you will be satisfied. Check out Asian Wok's menu.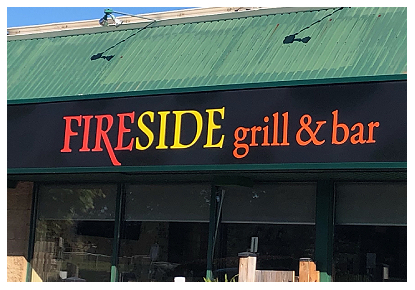 It's not easy to find a restaurant that does breakfast, lunch, and dinner really well, but Fireside Grill & Bar has won its place and is one of the best casual dining restaurants in London. A varied menu, large indoor seating area and a great patio, as well as attentive and accomodating staff, make this place an easy choice. They have live music in the restaurant every Saturday and television sets for watching sports games. The owner is regularly seen on site chatting with and checking on customers. With its friendly vibe, large portions, and competitive pricing, it's no wonder Fireside Grill & Bar is so popular.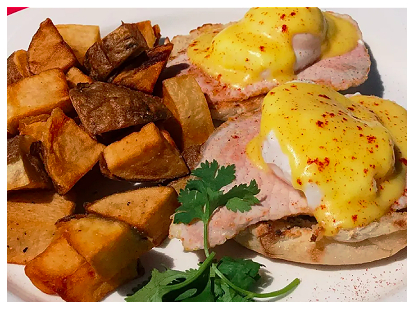 Almost anything you're craving can be found on the Fireside menu: all traditional breakfast items, salads, soups, tacos, chicken, panzerotti, fish and chips, burgers, and steak—and even more! There are vegetarian options as well, and some kid favourites so you can be sure that even the pickiest eater will find something to enjoy. We definitely recommend trying breakfast here, especially their perfectly made Eggs Benedict. If you're looking for an exciting dinner option, try the Smoked Chicken Mac 'N' Cheese, it's just as amazing as it sounds. You can take a look at Fireside Grill and Bar's menu here.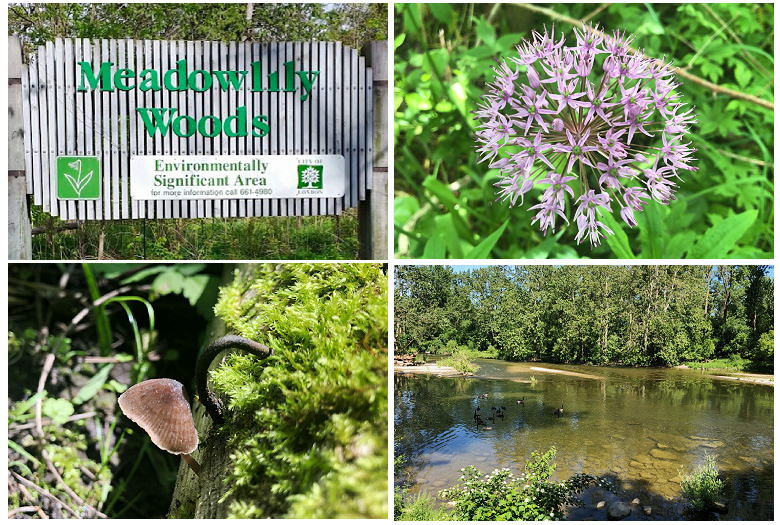 Meadowlily Wood Environmentally Significant Area is an incredible area with many different hiking trails and some of the city's most varied wildlife and plant species. This beautiful space is very close to the Summerside neighbourhood and makes for the perfect escape whether you are looking for a relaxing stroll or a longer hike. There are many paths, allowing for different exploring opportunities without too much difficulty. It's an awesome place to bring kids so they can let their natural curiosity run wild and learn to appreciate the wonders of nature. With gorgeous views of the Thames River, Meadowlily is also an ideal spot for photography. Birdwatchers are sure to see many different types of birds here as well. There's a lot of opportunity for more serene and isolated trails along the river as well, really making you forget that the busy city is just outside. In the fall season, these woods are simply breathtaking, with so many different types of trees turning unique shades of red, orange, and yellow. Even those who are not too enthusiastic about nature will surely find something to appreciate on this magnificent trail. It's one of the most popular hiking spots in the city for obvious reasons!


In the Summerside neighbourhood, you will find Meadowgate park, with a large green space, soccer field, and good sized playground and one of the best splash pads in the city. There are separate sections for older and smaller children. There are also some walking paths and covered picnic areas as well. This is a very popular park so you will often see people from outside the neighbourhood making the trip for their kids. There are regular Food Truck Nights hosted by the Summerside Community Club, as well as other different events such as movie nights taking place here. Due to its expansive size, Meadowgate is a great park to spend time with family and not feel like you're too crowded with a lot of people. It's wonderful to have such a gorgeous and well-maintained park so close by, and being located right in the middle of a residential area makes it feel extremely safe. For many people, having access to space where they can take their kids and enjoy themselves as well is very important. Plus, it's nice to enjoy a quick stroll or even get in a morning jog here. Meadowgate park is certainly one of the many positive aspects of this neighbourhood, it's a space where the community can gather and tighten their growing bonds.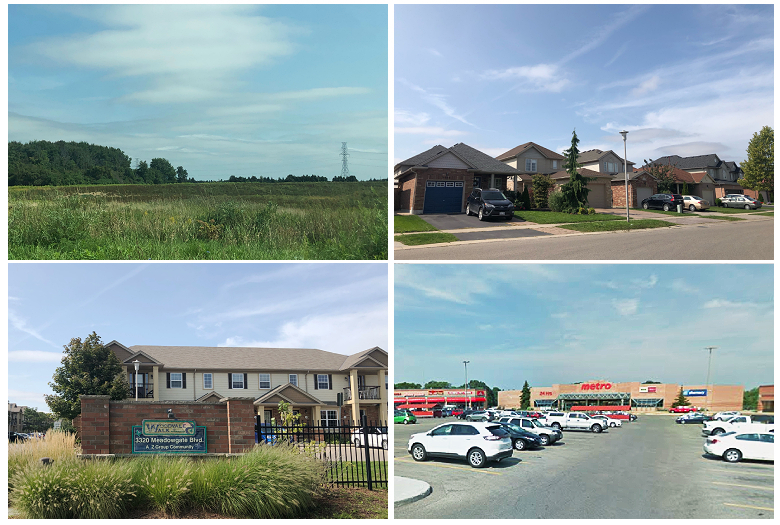 Despite being one of the newer communities in London, Summerside is already developing into the kind of place where people will settle down for a long time. With its lovely homes and friendly people, even just a walk around the block will give you an idea of how warm and welcoming this neighbourhood is. The affordability of many homes also allows different types of families to consider living here, as many other areas in the city might be too expensive. Perhaps the best thing about Summerside is its private location. It feels good to live in a place that's away from the hustle and bustle of city life, while still enjoying the quick access to amenities and lovely natural spaces. There are two shopping plazas nearby, one on Commissioners and Highbury, and the other at Commissioners and Wellington both offering a variety of grocery, dining, and shopping establishments. The neighbourhood is also relatively close to White Oaks Mall, a major shopping destination, and Landmark Cinemas for all entertainment needs. With all it has to offer, Summerside is quickly becoming a sought-after neighbourhood. It is still in the process of developing so there continues to be more homes being built and additional green spaces as well. Summerside is a truly gorgeous corner of the city, and it's inviting to a wide variety of people from growing families, first-time homebuyers, and even those looking for an investment property. The Summerside Community Club is made up of volunteer residents dedicated to strengthening and cultivating the sense of community in Summerside. They are committed to advocating as a collective organized voice to raise awareness when issues arise in the community. They have regular meetings and welcome anyone who lives in the neighbourhood to attend.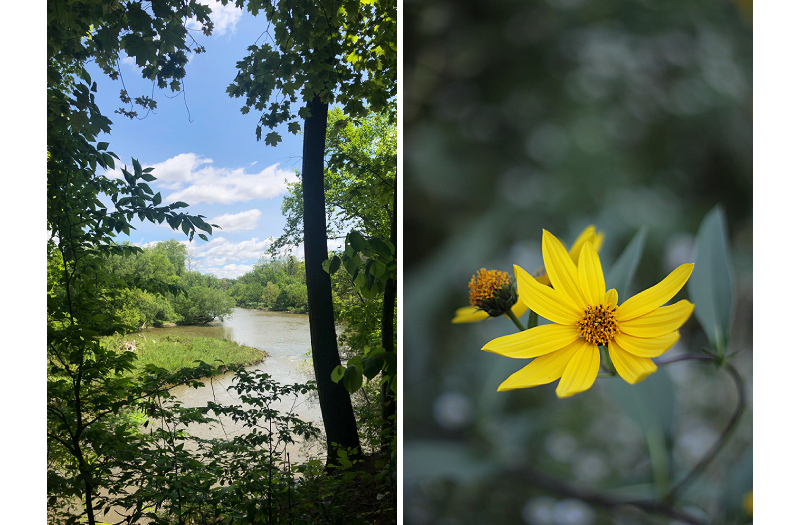 Summerside is proving itself as a unique community in London. With the beautifully designed homes, great location, and a growing community of dedicated individuals, it's becoming a go-to neighbourhood for a diverse group of people. It's a place that has a lot to offer anyone willing to take the time to really explore it. For current listings in the Summerside neighbourhood of London, Ontario take a look at our Summerside Homesearcher and contact one of our excellent agents today.