Sunday, November 29, 2020 / by Team Glasser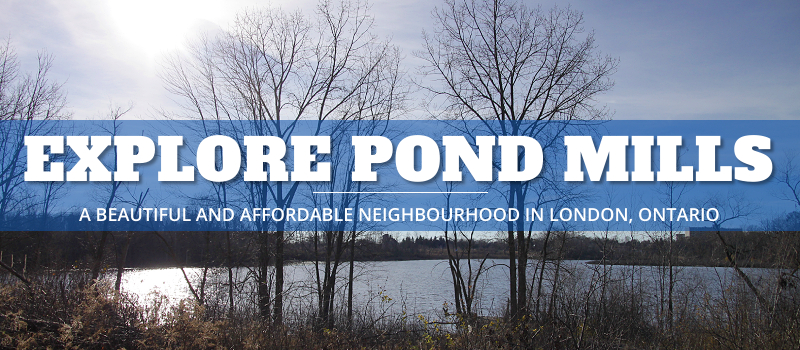 Pond Mills is a residential neighbourhood situated in southeast London, Ontario. This is a fantastic area as it is close to the 401, as well as the gorgeous Pond Mills Environmentally Significant Area. Pond Mills is conveniently located close to the White Oaks shopping area, as well as multiple shopping and entertainment hubs. The Pond Mills and Glen Cairn neighbourhood is one of the most affordable neighbourhoods in London, making it a great option for first-time homebuyers. With a range of homes including townhouses, single-detached homes, and a few apartment buildings, this neighbourhood has so much opportunity and potential.



Pond Mills is situated within the larger neighbourhood of Glen Cairn, and the statistics provided reflect that information. As of 2011, the population of Glen Cairn in London, Ontario is 15,745 people, of which 50% is 2 person families. Single-detached homes make up 41% of all dwellings, and 68% of dwellings are owned. The average value of dwellings is $193,391. Below we've created an overview of the most relevant statistics. For a comprehensive census, you can visit The City of London's Glen Cairn neighbourhood profile.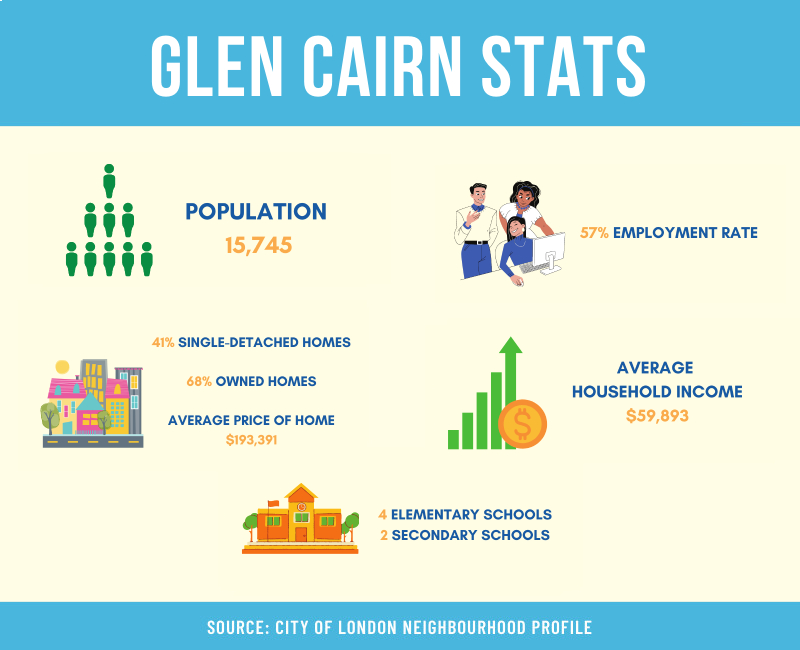 There are so many diverse dining options near the Pond Mills neighbourhood. Since it is situated within the range of a few major shopping plazas, you'll find that some of the city's top restaurants are located here. It was a tough choice, but we narrowed down our favourites to Paramount Fine Foods and Shiki Japanese Restaurant.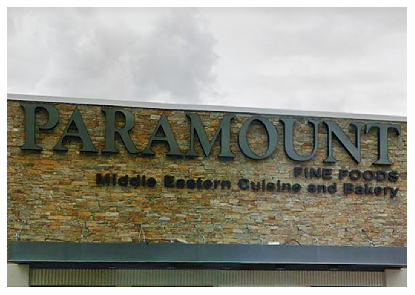 Paramount Fine Foods is a Middle Eastern restaurant that has been a favourite in London for many years. Everything about this restaurant is completely authentic: from the gorgeous and colourful interior design to the amazing dishes they provide. You will be treated like family here, with exceptional service and some of the best homemade food in the city. Paramount has a very large dining area which makes it ideal for large family gatherings or parties. They also have a bakery section where you can pick up bread and a variety of incredible Middle Eastern desserts.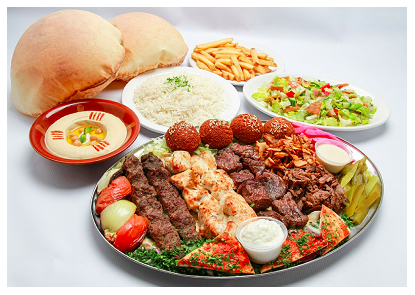 On the menu, you will find all the signature Middle Eastern dishes you can think of, all prepared by experts with the best ingredients. Their fresh pita bread which is baked in-house is a must-have with anything you are ordering. Whether you're looking for a casual breakfast or lunch, or a lavish dinner for a group of people, you will find it at Paramount. They have plenty of vegetarian, vegan, and gluten-free options as well to suit any tastes. We highly recommend the Shish Tawouk Platter, it is perfectly seasoned and full of flavour. Leave some room for dessert because you definitely don't want to miss that! Take a look at Paramount's tempting menu here.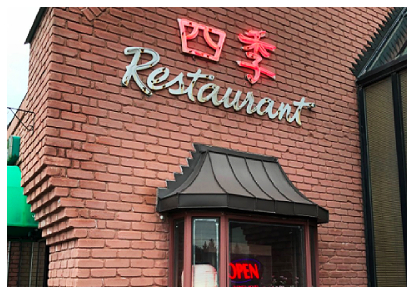 Shiki Japanese Restaurant has been serving the city of London since 1987. This family-owned and operated eatery is one of the most popular for Japanese cuisine in the city. With their super friendly service and appetizing cuisine, they've rightfully won the love and trust of Londoners. The restaurant has a very genuine simple and comfortable atmosphere, keeping the focus on the dining experience rather than overly lavish décor. What Shiki offers is a consistency in quality that has lasted since their opening days, and is a top reason why many of their customers have continued to return for over 20 years.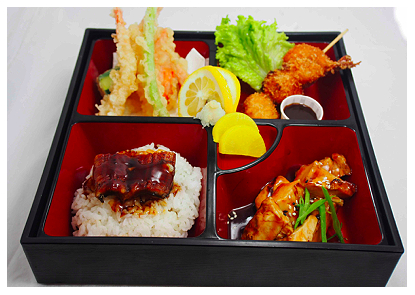 Their menu has many options including lunch specials, hot pots, an amazing variety of sushi and sashimi and more. The fish is very fresh, as are all the ingredients in their dishes. They serve up an original Japanese flavour and can accommodate any dietary requests such as vegan or gluten-free. They have some truly standout items on their menu that you won't find at any other restaurant. It's very clear that their focus is to bring the most authentic Japanese menu to their customers, and they've been doing it very well all these years. There is so much to choose from, but we guarantee that you will find something to love here no matter what. Take a look at their incredible menu here.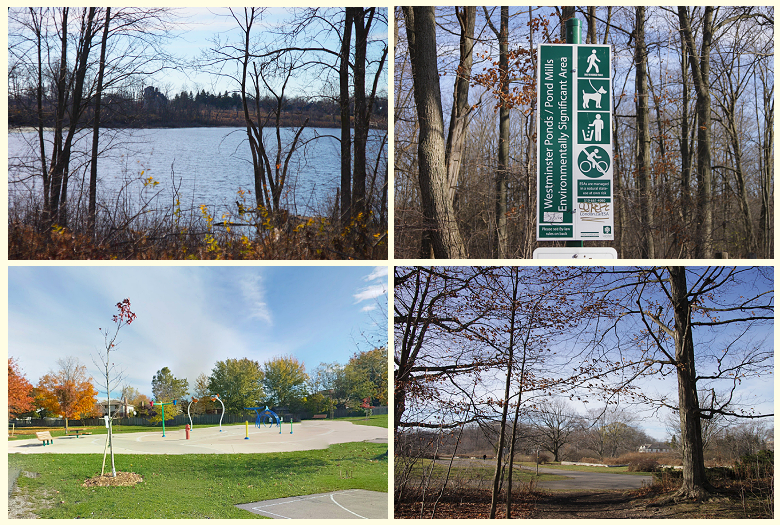 Pond Mills is located close to some great shopping hubs, as well as the 401 Highway for easy access when leaving the city. Perhaps the best thing about the Pond Mills neighbourhood though is the gorgeous green spaces surrounding it. Driving through this area of London, you can really get a feel for why London is dubbed the "Forest City." There's a very clear harmony between nature and all the buildings and houses, which easily blend and exist together to make London the unique city that it is. The Westminster Ponds/Pond Mills Environmentally Significant Area is one of the most diverse ecosystems in the city. Here, you will find two beautiful ponds and many different hiking trails with some very interesting animal and plant life. With a variety of meadows, woods, wetlands, and forest lands, it feels like you can never be fully done exploring this gorgeous area of the city. It doesn't matter what season, you will always find beauty and inspiration in these serene spaces. There are also plenty of parks in the area, including the Southeast Optimist Park which has play structures, splash pad, baseball diamonds, and a basketball court. Glen Cairn Park also provides some smaller trails to explore. There is a major shopping plaza at the corner of Commissioner's Road and Pond Mills road, which includes a few restaurants, convenience stores, and public services. Just outside the neighbourhood you can easily get to the White Oaks shopping district, which includes the Landmark VIP Cinemas and many different businesses from grocery stores to smaller locally-owned boutiques. Even just walking around the residential streets, there is a lot to take in and appreciate. There is a mix of older homes and newer buildings, and the trees that line the streets make the area a great place to walk. This integration of nature into the heart of the neighbourhood is something that makes it stand out as one of the best in London.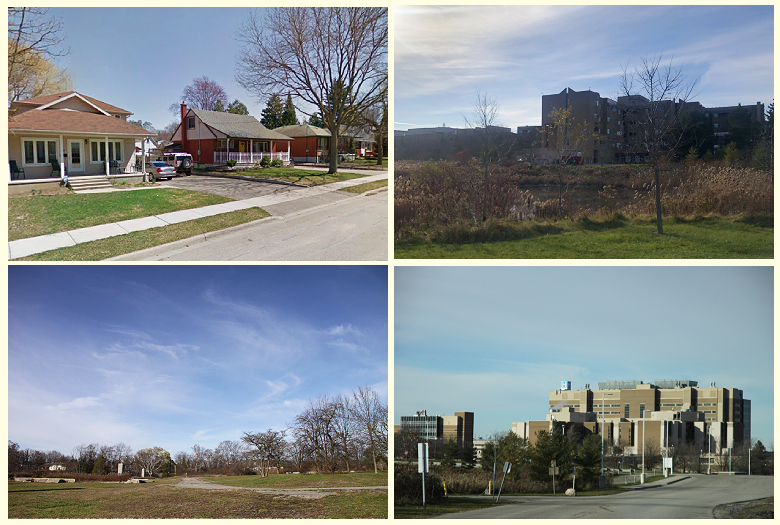 The great thing about Pond Mills is the fact that it continues to develop. Although some of the homes in this area have been around since the '70s, many new buildings have gone up since then and housing projects continue to expand the neighbourhood to this day. This is one of the most affordable neighbourhoods in London, and a really great option for first-time homebuyers, as well as families looking for a home within a reasonable budget and close enough to excellent schools. People are generally very warm and friendly, and you will often find that the outdoor spaces are somewhat busy no matter the weather, as it's very hard to resist a walk outside in the beauty of the ponds and trails. For many people, the 401 highway is conveniently located nearby, providing a great incentive for those who work outside the city to settle in Pond Mills. The LHSC Victoria Hospital is located just outside the neighbourhood as well. There is definitely a sense of privacy within the neighbourhood since it is not situated on the busy streets, but the amenities are still within easy reach to give that perfect balance. A variety of factors work together to make Pond Mills an ideal neighbourhood for nearly any homebuyer, but especially those seeking to take advantage of London's natural beauty. It can be easy to reduce Pond Mills into the category of "affordable neighbourhood" but it is so much more than that. Just one visit can be all you need to fully realize the potential of living in such a gorgeous and unassuming neighbourhood.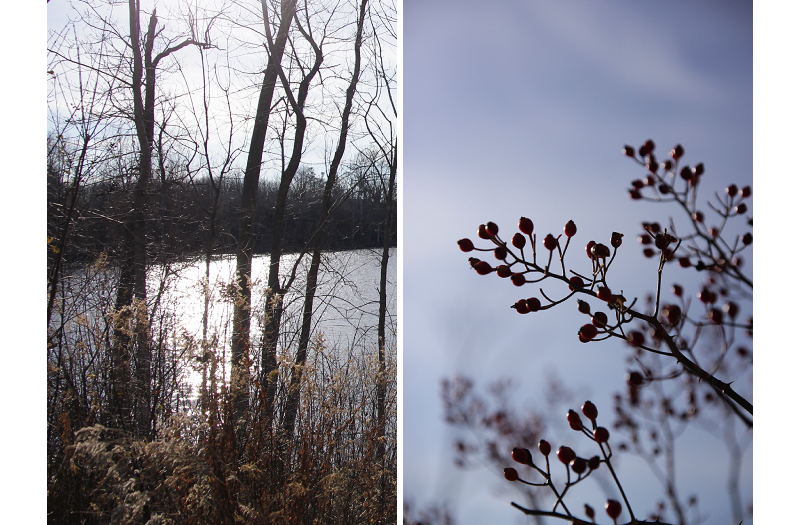 Whether you are a first-time homebuyer, a family, or just someone looking to get the full experience of living in the Forest City, Pond Mills has something to attract any potential resident. With plenty of amenities nearby and the inspiration of nature, this neighbourhood can easily become your new forever home! For current listings in the Pond Mills neighbourhood of London, Ontario take a look at our Pond Mills Homesearcher and contact one of our excellent agents today.