Saturday, October 19, 2019 / by Team Glasser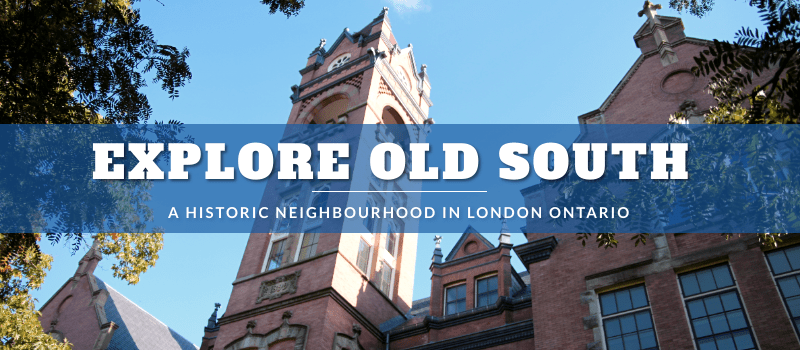 Old South is one of London's oldest and most vibrant neighbourhood. Home to Wortley Village, which was picked as Canada's Best Neighbourhood in 2013, this community in the heart of Old South adds flair and originality to London Ontario's cultural landscape. Whether you're considering moving to Old South or just stopping by for a visit, this article will give you all the information you need about the neighbourhood and all that it has to offer!

Old South first developed in the middle of the 19th century and was eventually annexed by the City of London in 1890. This historic neighbourhood is located just south of London's Downtown, and its homes range in style from large estate homes, single family homes, and smaller cottages. At its centre, Old south is home to the wonderful community of Wortley Village. Celebrating a distinct small-town feel, Wortley Village has a variety of exciting restaurants and shops, all radiating the same warmth that is widespread throughout the whole neighbourhood. This part of London, Ontario is sure to delight visitors and newcomers, so we have chosen some of our favourite places and activities to give you an idea of what it's like to be a part of this lovely neighbourhood.


As of 2016, the population of Old South is 113,160 people, of which 61% is 2 person families. Single detached homes make up 40% of dwellings, and 46% of homes are owned. The average value of dwellings is $289,717. Below we've created an overview of the most relevant statistics. For a comprehensive census, you can visit The City of London's Old South Neighbourhood profile.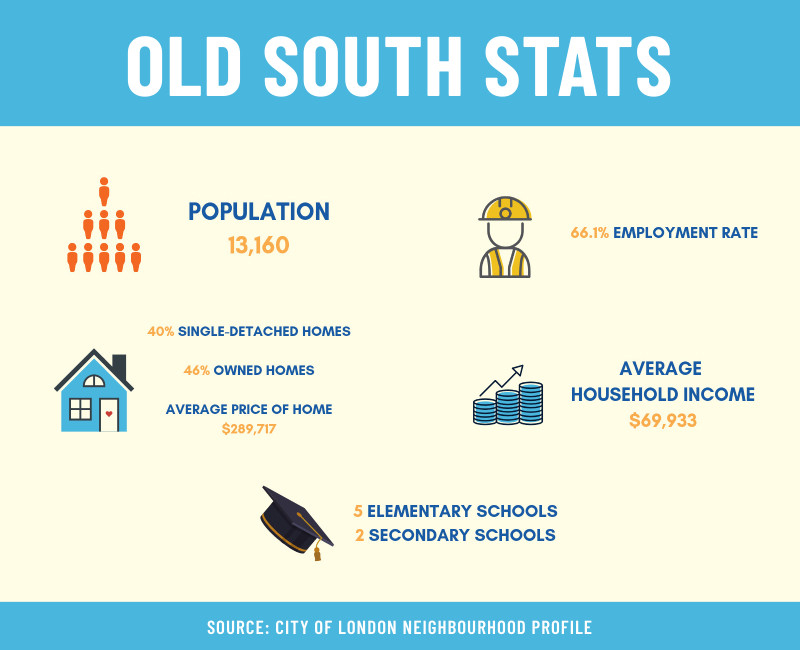 Some of the best dining experiences in all of London are right in the heart of Old South, in Wortley Village. Whether you're looking for coffee and desserts, a quick bite, or a unique dining experience, there is something to satisfy every craving! It was difficult to choose, but our personal favourites for delivery are Plant Matter Kitchen and The Black Walnut Bakery and Café.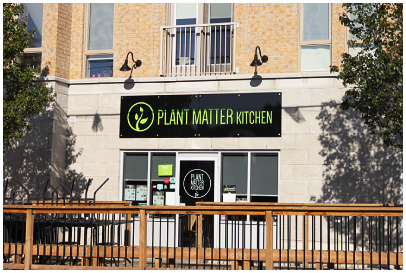 One of the most unique restaurants Old South has to offer is Plant Matter Kitchen. This fantastic eatery offers an entirely vegan menu including desserts, coffee, and smoothies. They offer both delivery and catering, as well as an impressive weekend brunch menu (and donuts!). Using local and organic ingredients, Plant Matter Kitchen offers clients an incredible experience and proves that plant-based cuisine can be delicious and exciting.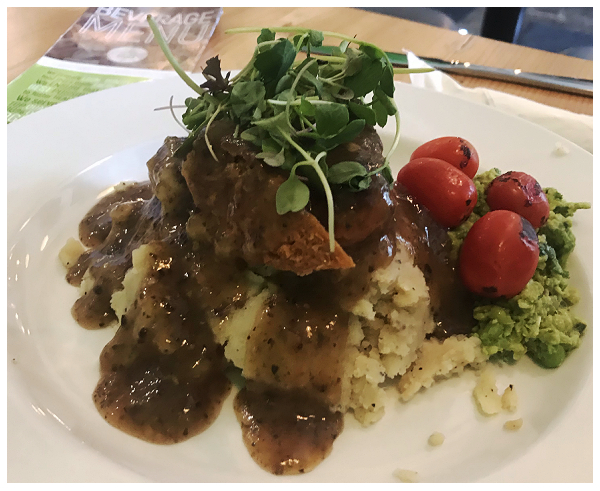 Plus, they offer some special dining opportunities such as a vegan Thanksgiving meal, and their recent "Dining in the Dark" experience, which helped to raise money to support the Canadian National Institute for the blind. It's easy to see why Plant Matter Kitchen enjoys great popularity, and was voted London's favourite vegan restaurant in 2019. Whether you eat an exclusively vegan diet, or want to try something new, Plant Matter Kitchen's menu is sure to win you over. Check it out here! We recommend the Bangers & Mash.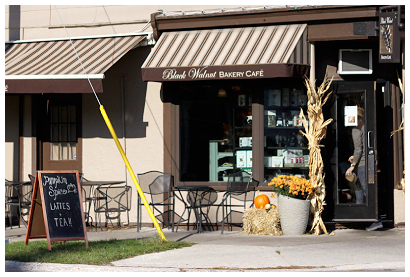 It's never a surprise to see a line-up out the door at Black Walnut, even on weekdays. This family-owned cafe has gained well-deserved popularity in the past few years for its delicious coffee and wide range of pastries. They roast their coffee in-house at their Richmond Rowe location. If you're looking for a quick bite to eat, Black Walnut also offers soups, salads, wraps, and frittatas.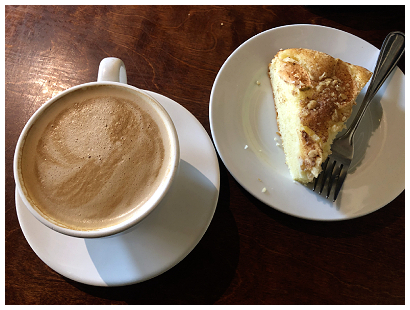 This cozy cafe is not only known for its quality food & coffee, but their first class customer service keeps clients happy. The warm atmosphere of Black Walnut is the same one radiating throughout the Old South neighbourhood-- it's no wonder their business is booming! Black Walnut offers both delivery and catering. You can take a look at their menu here. We recommend trying their Quiche du Jour, and the coffee cake for a sweet treat.




There is plenty to see in London's Old South. From the historical and impressive Normal School, built in 1898, to the many parks and biking or walking trails. The largest park in Old South is the great Thames Park. With a gorgeous trail along the river, and all the amenities: a large playground, outdoor pool, tennis courts, and a community garden-- Thames Park is a wonderful place for anyone no matter what activity they are interested in. The park also provides access to London's riverside bike paths, with magnificent views of the river, trees, various plants and wildlife. Being at the centre of Old South and easily accessible makes Thames Park a crowd favourite in London, whether you're looking to be active or just out for a leisurely stroll, sitting on a bench, or even exploring for some great scenes to photograph. When it's not buzzing with activity at the pool or tennis courts, Thames Park provides a quiet place to enjoy your day and soak in the sun and fresh air.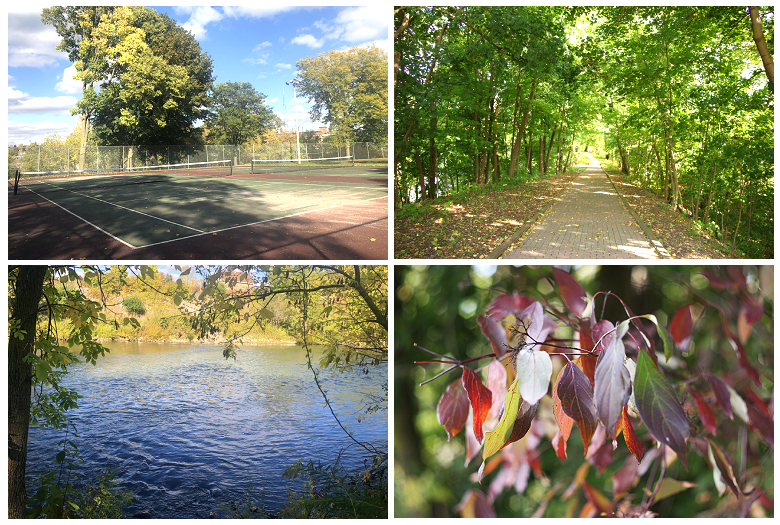 Old South is truly one of the most special communities in London, Ontario. The Old South Community Organization dedicates itself to preserving the heritage of the Old South neighbourhood, as well as participating in incredible initiatives such as ReForest London, which has been planting trees and shrubs in Thames Park, the Village Green grounds, and the neighbourhood backyards. The people of Old South are welcoming and friendly, always happy to greet each other in the street and stop for a chat. As the OSCO website puts it, one of the reasons to love Old South is the "diversity, inclusivity and people from every culture and walk of life, including cat people, dog people, and ferret people." You can sign up for their e-newsletter on the website to stay up to date on the neighbourhood news and all upcoming events!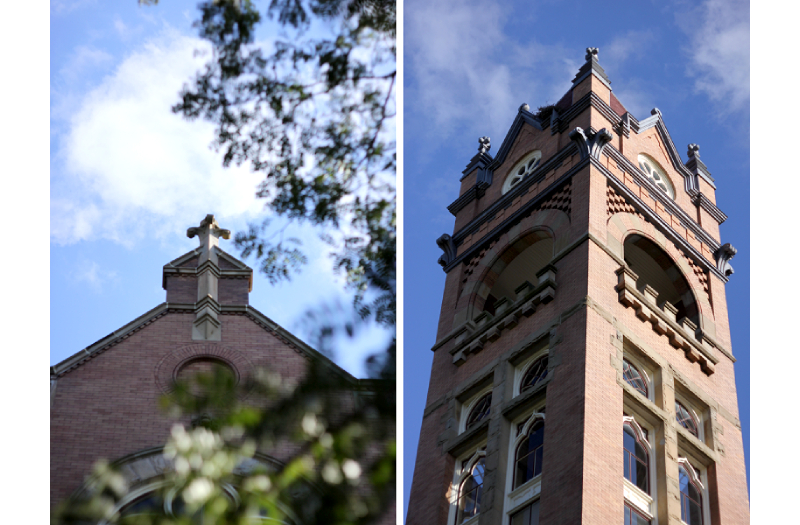 There are so many reasons to find a home in the Old South neighbourhood, which is sure to make any newcomer feel at home right away. Despite the almost constant activity of its heart in Wortley Village, this neighbourhood makes time for strong community bonds, and retains the distinct village atmosphere its residents love and are proud of.
For current homes for sale in Old South in London, Ontario take a look at our Old South Home Searcher and contact one of our excellent agents today.