Thursday, February 6, 2020 / by Team Glasser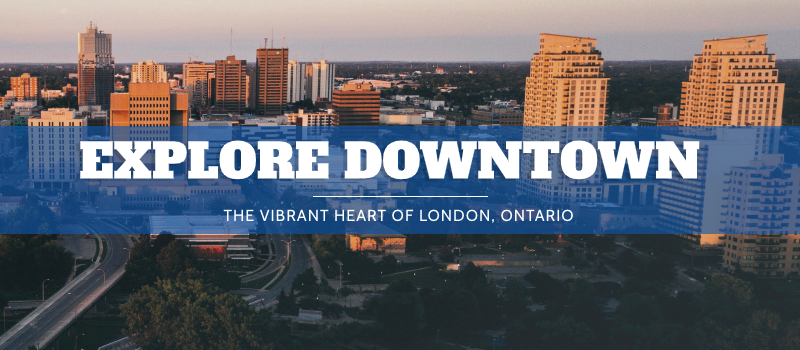 Welcome to Downtown London, Ontario! The vibrant and bustling heart of the city, it's bursting with exceptional experiences and diverse dining, shopping, and exploring opportunities. Downtown London is considered the business centre of the city, where you will find the regional courthouse, the tall offices of financial, tech, and government services, as well as the Greyhound and ViaRail stations. Downtown is also a dynamic entertainment district. Whether you are interested in calling Downtown your new home, or just want to know everything going on in this energetic hub, our article will take you through everything Downtown has to offer!



As of 2016, the population of Downtown London is 4,415 people, of which 21% is 2 person families. Five+ story apartment buildings make up 13% of all dwellings, and 26% of dwellings are owned. The average value of dwellings is $231,741. Below we've created an overview of the most relevant statistics. For a comprehensive census, you can visit The City of London's Downtown Neighbourhood profile.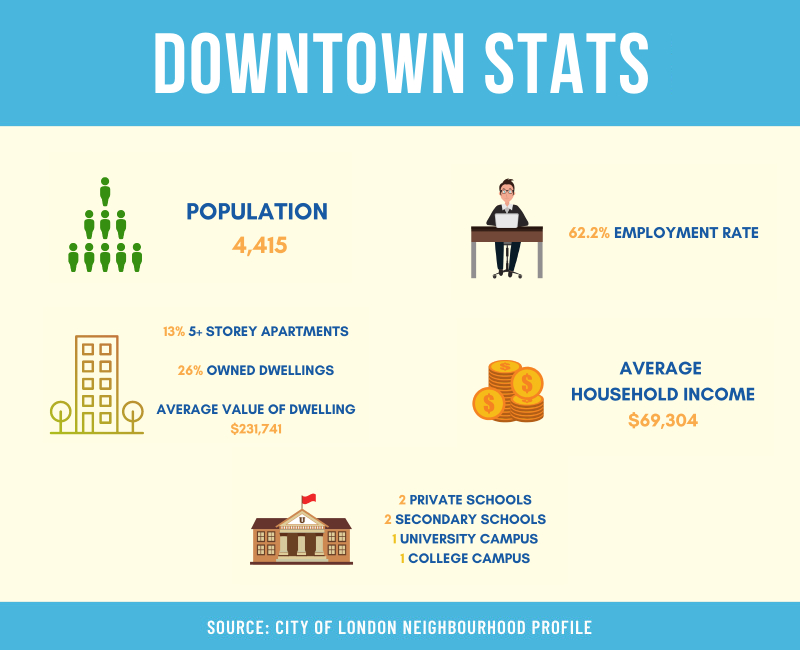 One of the best things about Downtown London is the abundance of dining options. Ranging from a variety of fine dining experiences to the more casual and quick well-known spots. Whatever your taste and preference, you are sure to find something delightful. We chose Happiness Cafe and Stobie's Pizza as some of our favourite places.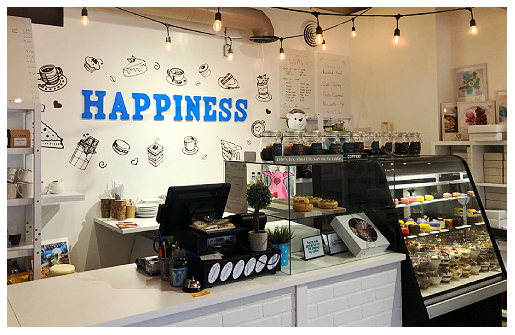 Happiness does not deceive with its name. This sweet family-owned and operated café is a special place, offering scrumptious European-style desserts and speciality coffee drinks and tea. The dessert menu is extensive, offering donuts, French macarons, cheesecake, cake in a cup, mousse cakes, cookies and much more. Plus, they have dessert waffles as well as delicious waffle sandwiches if you're looking for a quick bite. They also take custom orders for cakes and offer personalization of any of their desserts with laser printed images whether for personal or business events.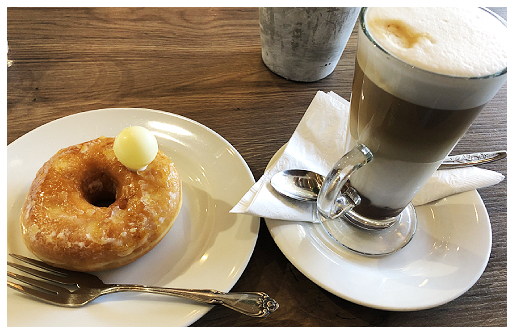 What sets Happiness apart is the incredibly friendly service. The owners are always happy to make recommendations and explain their products. The atmosphere in the café is designed to immediately lift your spirits. The bright décor and colours, the relaxing music, and cozy seating options all come together to make Happiness a place you want to spend a few hours in. We recommend our personal favourite is the crème brûlée donut with a crispy burnt sugar top, filled with a rich custard. Happiness also offers delivery through UberEats, take a look at their menu there!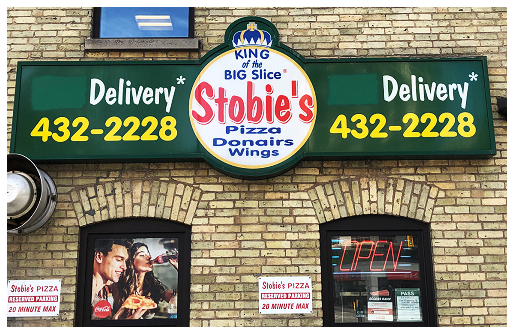 Stobie's is an iconic London establishment. This popular family-owned pizza spot has been around since 1997 and is one of the busiest and most loved restaurants in London. They are known for their big slices of fresh pizza, as well as offering all their pizza in a COLOSSAL size. Their menu also offers salads, wings, calzones, and donairs. Most recently they have started offering gluten-free options, and dairy-free cheese-- a great way to make their incredible pizza more accessible to people with dietary restrictions.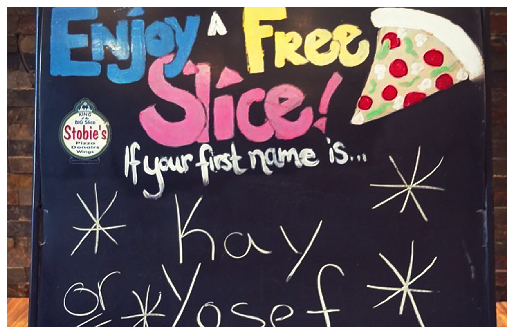 Stobie's is truly a fixture of the neighbourhood, there is very little chance of living in London and not becoming a fast fan of their superb pizza. Plus, every day they give free pizza slices! Their daily promotion includes picking a few names, and anyone coming in with that name receives a free slice. This promotion has been extremely successful and popular on social media. What's better than getting a free slice? You can take a look at Stobie's menu here. Whatever you decide to indulge in, the friendly people at Stobie's and the taste of their fine and fresh food will surely satisfy you.

We can't talk about downtown without mentioning the myriad of bars and pubs. Downtown nightlife can get quite rambunctious, especially during the school year when UWO students are consistent frequenters of downtown bars and clubs. But there are plenty of low-key pubs, even some with a family-friendly atmosphere. It's a difficult task to pick favourites, but we thought these places deserved an honourable mention. The Churchkey Bistro-Pub is a popular upscale pub offering Canadian and European style cuisine, as well as craft beers and a classy but still relaxed ambiance. Molly Bloom's is a favourite for everyone from students to longtime regulars, offering a menu of classic Irish pub food. They have live entertainment, karaoke, as well as a great outdoor patio. There's Morrisey House, an exceptional pub and restaurant which has a great menu and a warm atmosphere, designed to make you feel right at home. They host special events such as "ladies nights" on Mondays, Fish Fridays, and weekend brunch. Fitzray's is another beloved spot, very close to Budweiser Gardens, with a full menu, great drinks, and live entertainment. They take vast pride in their knowledgable and friendly staff, promising that you will be treated like family when you visit. There are so many more exciting and unique bars and pubs throughout downtown, you're guaranteed to find something to suit your fancy!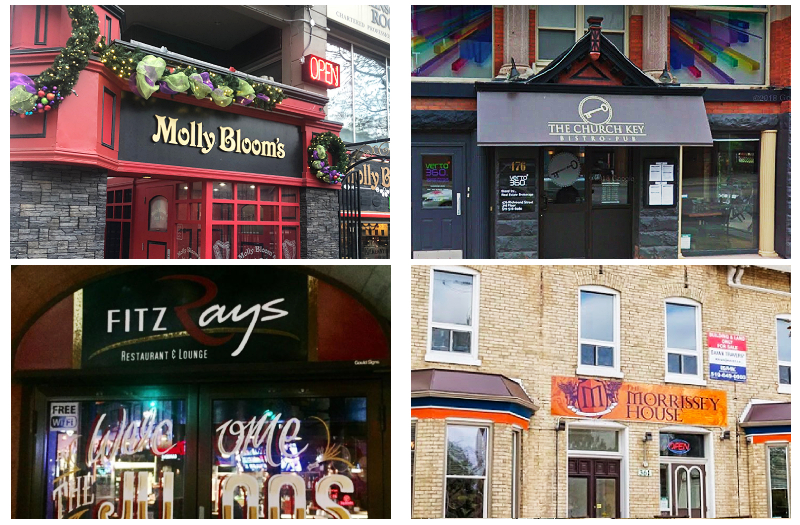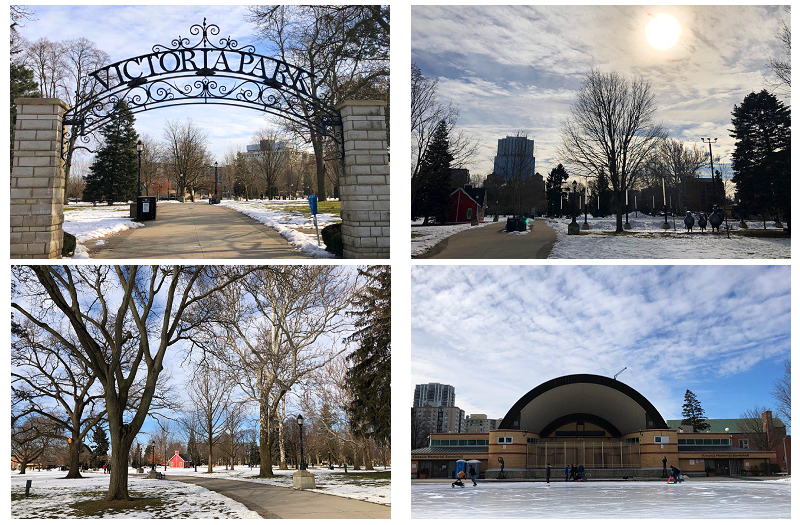 While it may seem that Downtown is constantly noisy and on the go, there are a few places where one can go to take a break and spend time in nature. Victoria Park is a major hub of activity, especially in the summer, they are host to annual festivals such as Sunfest, Home County Folk Festival, Rib-Fest, and the International Food Festival. In the winter, Victoria Park becomes a winter wonderland. There are the beautiful lights strung up on all the trees around Christmas. There is also free ice-skating, which is a very popular activity for kids and families. When it's not rife with liveliness, Victoria Park is essentially small oasis in the middle of Downtown to walk, take a lunch break, or just to sit and relax while enjoying the magnificent trees and many squirrels running around.


Ivey Park is an exceptional park. It has everything: biking and walking trails, a playground and splash pad for kids, and plenty of benches and even a few chess tables. This is one of the most scenic parks in London, with its incredible view of the Thames River, and its many different types of trees and wildlife. It's also a favoured spot for engagement and wedding photos, as the views can be a lovely backdrop for romantic and breathtaking shots. You will often see families enjoying the weekend at Ivey Park, and it's spacious enough to never feel fully crowded. Anyone visiting London must have this park on their list of places to explore.


If you're living in or just spending time Downtown, you will surely need to stop by Covent Garden Market. This indoor market has been around since 1845 and is an indisputable cultural landmark of London. They have an outdoor farmer's market on Thursdays and Saturdays offering fresh and local produce. Inside, there are also plenty of options for buying local fruits and veggies, and so much more. The market is home to many well-loved spots such as Hasbeans Coffee and Waldo's on King. There are several shops, offering a variety of giftware and houseware, from local artists. During lunchtime and on the weekend, the market can get busy, but the upstairs seating area is very spacious. Even just walking around, taking in the sights, sounds, and smells of the market feels magical. Everyone is so friendly, the shop owners are always ready to help, and you're almost always likely to leave with something special in your hand.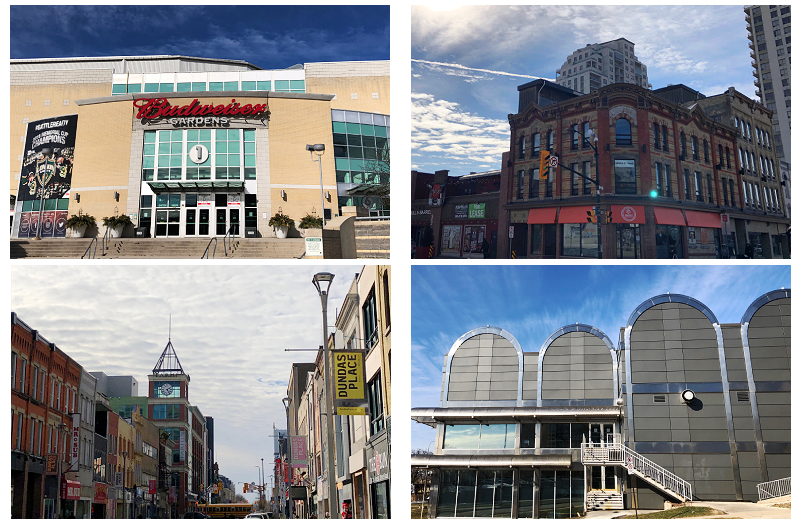 Downtown London is buzzing and fast-paced, but still offers those quiet spots for relaxing and getting away from all the noise. Whether it's the trail along the river at Ivey Park or one of the more low-key restaurants and café, downtown encompasses the best of both worlds. It's a great advantage to live in the city centre where you are close to everything. Budweiser Gardens is a sports-entertainment centre, and it is the largest in Southwestern Ontario. Here, you can go to watch hockey games, basketball games, concerts, and even "on-ice" events. in 2019, Budweiser Gardens hosted the Juno's, and they have hosted many notable events such as Cirque du Soleil, iconic artists like Cher, and even the Royal Philharmonic Orchestra. Plus, they have plenty of events geared towards children and families throughout the year. The biggest and most exciting events take place here, right in the center of Downtown London. There is the Museum London, which has a fantastic collection of over 5000 Canadian and regional works. They have compelling and relevant exhibitions each year, which often shed light on and showcase Indigenous artists and creators. Museum London also hosts events such as concerts, workshops, and weekly activities encouraging children to participate in making and learning about art. The newly established Dundas Place is home to many important institutions such as the Central branch of the London Public Library branch and Wolf Performance Hall, where many lectures and concerts take place, often free to the public. The Grand Theatre, which opened in 1901 and still operates successfully to this day. Their yearly program is always an exciting treat and gives Londoners a chance to experience the wonders of the stage through its many excellent productions. There is so much happening Downtown, and while sometimes it seems as if things are always changing fast, the essence of the community stays in place. Downtown London is a wonderful community, and the advantages of living right in the heart of the city can't be beat.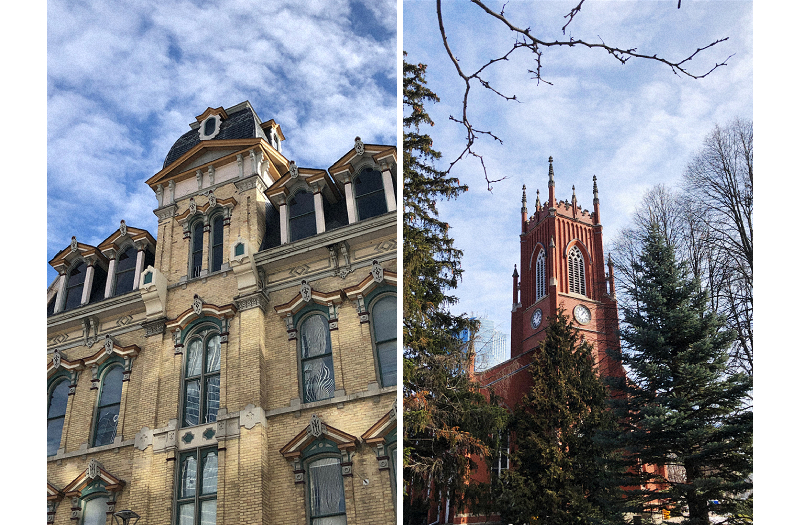 While living in Downtown London may not be ideal for every person, those who choose to make Downtown their new home will find that it's an incredible place to live, with so much to offer, great history, and plenty to see, explore, and learn about. For current homes for sale in Downtown London, Ontario take a look at our Downtown Home Searcher and contact one of our excellent agents today.