Wednesday, February 17, 2021 / by Team Glasser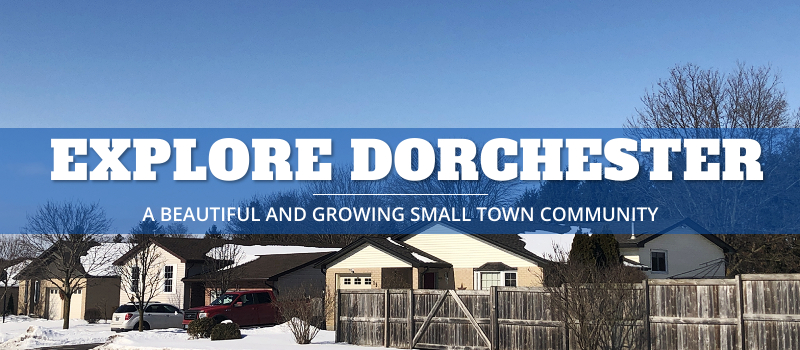 Dorchester is a small town located about 20 Kilometers East of London, Ontario. It offers the perfect setting for anyone to live away from the busyness of the city but still be close enough to commute, as well as plenty of amenities, shopping, dining, and schools in the town itself. Dorchester is surrounded by a beautiful and rich ecosystem, and there are many trails around town so people can enjoy its beauty and biodiversity. If you're looking for a beautiful place to settle down, raise a family, or just live more on the quiet side, Dorchester is the perfect place.


As of 2016, the population of Dorchester, Ontario is 3,911 people, of which 45% is 2 person families. Single-detached homes make up 88% of all dwellings, and 88.9% of dwellings are owned. The average value of dwellings is $340,420. Below we've created an overview of the most relevant statistics. For a comprehensive census, you can visit the Statistics Canada Census Profile.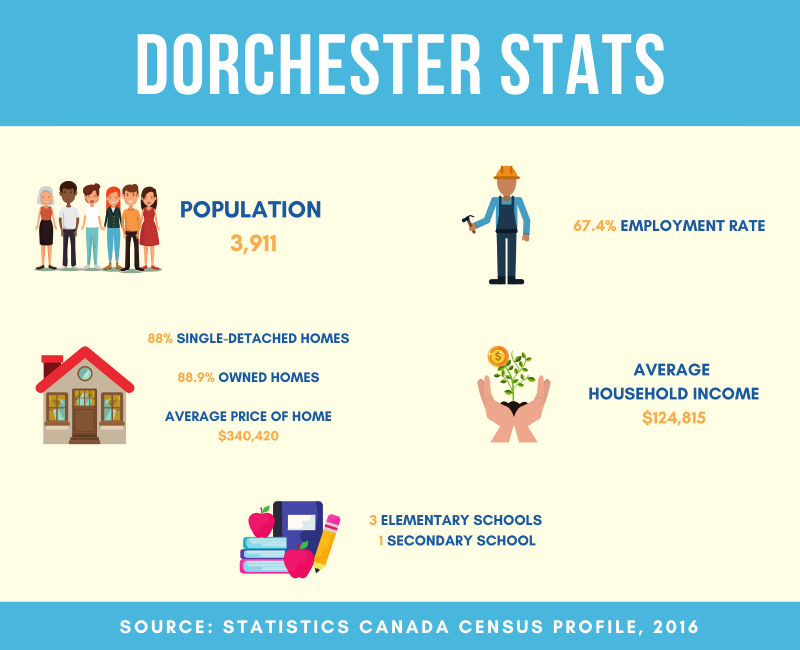 When it comes to dining, you will have plenty to pick from in Dorchester. This small town enjoys plenty of popular local spots offering a variety of cuisines. We've chosen two of our favourite restaurants: The Fat Olive and The Mill Pond Tap and Grill.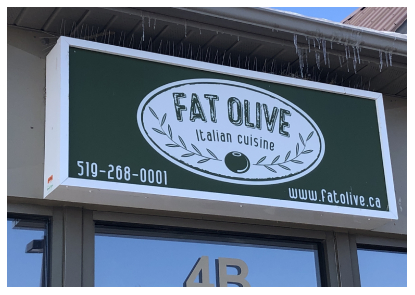 Fat Olive is a great family-friendly Italian restaurant. Their authentic Italian menu is created from fresh and quality ingredients all sourced locally. The owners are super friendly and attentive, and you will often see them around the restaurant interacting with customers. With genial staff and incredibly tasty food, Fat Olive has earned its place as one of the best eateries in Dorchester. Whether you're looking to have a casual lunch or a nice dinner, Fat Olive has a lovely and welcoming atmosphere that ties the whole experience of the restaurant together. The open kitchen concept means you can see the chefs preparing your meals as you wait!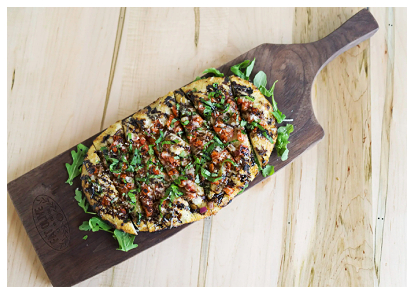 The menu at Fat Olive is as authentically Italian as you can get, offering a variety of pastas, paninis, strombolis, and desserts as well. They also have craft beers and some unique Italian wines you will not find at any liquor store. The incredible flavours you will encounter at Fat Olive are a real testament to their craft, and it's very clear that all their ingredients are very fresh. Not only is this restaurant a great place to eat, but an integral part of the growing community. Everything on the menu is a must-try, especially their flatbreads, and we highly recommend you try their perfectly made tiramisu as well. You can see their menu here.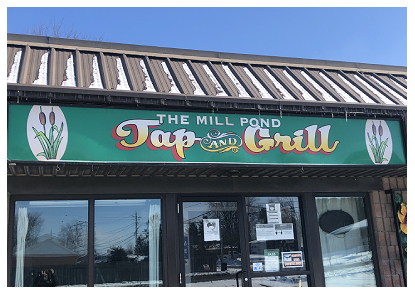 The Mill Pond Tap and Grill is a family-owned and operated pub, and somewhat of a fixture in the Dorchester community. This place has everything from good food, a friendly and fun atmosphere, a kid-friendly menu, and great community events. The owners are well known and liked in town, which makes going into this pub feel very welcoming, like visiting with friends. The staff is very accommodating and hardworking, which comes through in their efficient service. This is a great place to make memories with friends and family; it's very lively and has a true hometown feel.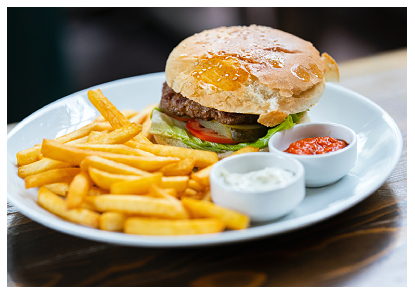 The menu has all the pub favourites like wings, fish and chips, burgers, and so much more. They offer weekly specials, as well as a variety of craft and local beers. The food is much better than what you might expect of a local pub, and it's obvious that the owners care about making even the most basic of meals enjoyable. They offer vegetarian options, and the kid's menu has plenty of variety even for a picky eater. We recommend that you don't skip out on their delicious wings, but also give their cauliflower bites a try if you don't eat meat! The burgers and wraps are another favourite. You can see The Mill Pond Tap and Grill menu here.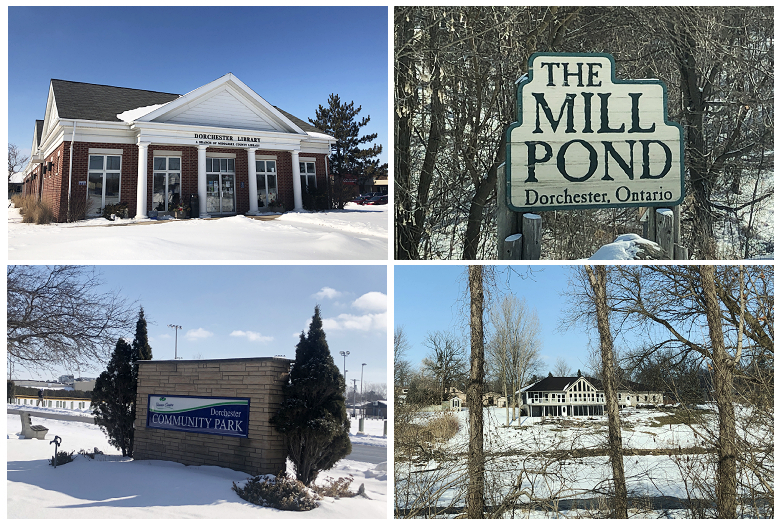 Dorchester has so much to offer in terms of activities. If you are a nature lover and enjoy hiking, Dorchester is the perfect place for you. The forest surrounding Dorchester is of great importance to the biodiversity of Southwestern Ontario. There are 9 local trails, from smaller ones closer to the heart of town like the Community Park Trail, to trails that take you into truly unique and beautiful natural spaces like the Mill Pond Trail and Lions Trail. The Mill Pond Eco-Trail is also a great place for photography, fishing, canoeing, and even snowshoeing in the winter. There is so much varied wildlife and interesting plants to see around the pond, and it makes for a wonderful and educational experience. The Dorchester Swamp is another place worth exploring, it's considered a significant wetland due to its many types of thriving flora and is an incredibly important ecosystem that has been beautifully preserved. The Dorchester Golf & Country Club is great for golf beginners, or simply to enjoy their restaurant, as well as the beautiful garden overlooking the course. For some real fun, the Dorchester Fair Grounds is host to wonderful events like the Dorchester Fair and the Oxford Renaissance Festival. The Dorchester Fair has been celebrated for 165 years, upholding the town's heritage and traditions. There are agricultural displays, stage entertainment, a Midway, a parade, and a demolition derby. There are even community competitions like a pet show, pumpkin carving, culinary contests, and more. It's definitely a place to enjoy with family and friends, create lasting memories, and keep the pride in the Dorchester community alive. The Oxford Renaissance Festival is great fun, including performances from jesters, magicians, and pirates. There are also jousting competitions, musical acts, as well as plenty of educational events for those interested in history about medieval combat, falconry, and Vikings. From the shows to the food to the general atmosphere, this festival is not to be missed! There are many smaller parks throughout Dorchester, and for both indoor and outdoor activities there is the Dorchester Community Centre which has an arena, baseball diamond, tennis court, Skate Park, a pool, and children's splash pad. The Dorchester Public Library offers many creative and literacy programs throughout the year. Dorchester has the perfect balance of large events that draw people from the surrounding areas to the daily hometown comforts everyone enjoys. Plus, its proximity to London means even more convenient access to both outdoor and indoor activities.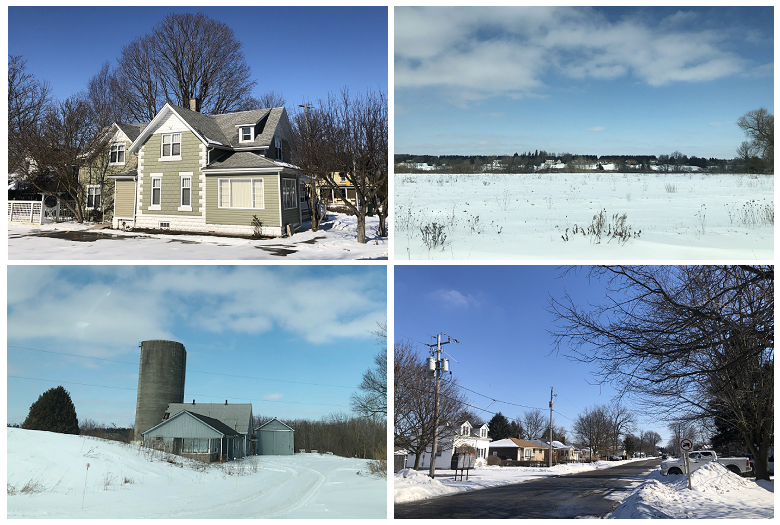 Dorchester is so much more than meets the eye. It's a really beautiful and unique community. The friendly locals have a lot of pride in their town and emphasize the importance of supporting local businesses. Having both elementary and secondary schools close by means that many families can live here comfortably without worrying about their children commuting out of town. This close-knit community allows people to settle in quickly and comfortably making it more than just a place to live but a place where you can build a life filled with family, friends, and neighbours. Here, going out to eat, going grocery shopping, or just visiting the park becomes an opportunity to connect with your neighbours instead of mundane everyday tasks. Even a day trip into Dorchester will show you how easy it could be to integrate into the small-town life. It's plain to see why more and more people choose to settle in these smaller areas and commute into the city to work. The great thing about Dorchester is that it has all amenities readily available so that there is no need to make frequent trips into London if you don't like the atmosphere of the city. Living in Dorchester might not be for everybody, but those who end up calling this place home come to love it and know they are lucky to be part of such a strong community.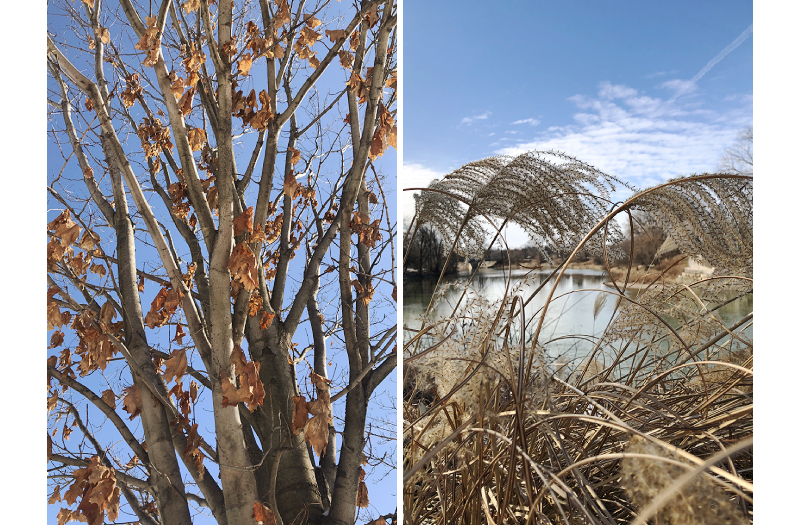 Dorchester has been growing since its early settlement and continues to be one of the best options for living and raising a family in the Thames Centre Municipality. Commuting to London and other nearby areas means convenience, and most people enjoy having that option. The charm of this town is very hard to resist, with incredible people that make you feel right at home, what is there not to love? For current listings in Dorchester, Ontario take a look at our Dorchester Homesearcher and contact one of our excellent agents today.